Youth Ministry Coordinator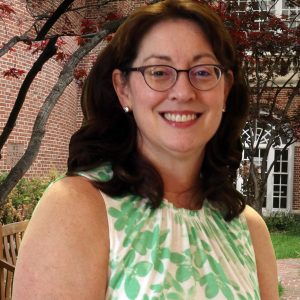 Michelle runs the youth group and Coming of Age program. Contact her for questions about registering children or volunteering to teach.
Michele Marie Andersen has lived in California, Oklahoma, and Virginia. Moving from a rural area in Oklahoma to Northern Virginia as a teenager was an exciting transition for her – getting to meet people from all over the world was thrilling and she still continues to enjoy learning about other people. Michele went to college at James Madison University where she fell in love with the Shenandoah Mountains and received a Bachelors in Psychology with a Minor in Family Issues. She then went on to obtain a Masters in K – 12 School Counseling at Johns Hopkins University. Michele has worked as a School Counselor and Parent Education Facilitator in Fairfax County Public Schools. Additionally she has worked with the Nurturing Parenting and Speak Up / Be Safe Programs; all which were targeted at helping children, youth, and families be their best. Michele has been a Unitarian Universalist for over 15 years; discovering this life-saving faith gave her a sense of belonging that she hopes to share with everyone she meets. She has been active at Accotink Unitarian Universalist Church in Burke, Virginia throughout that time, working with the Religious Education programs as well as focusing on Covenant and Social Justice work. Michele led programs on Compassionate Communication and Racial Justice, helping her congregation to adopt the 8th Principle and serving as a delegate at the General Assembly, developing suggestions for the proposed Article II changes. Michele has also been a Girl Scout leader for 6 years. Her scout group has camped, gone zip lining, attended theater productions, and helped out in their communities. Michele loves to support children and youth creating their own goals and then knocking them out of the park! Michele has been married for 23 years and lives with her husband, two unique teenagers and two rambunctious cats, near a recreational lake in Fairfax. She loves to read, dance, hike, and meditate out in nature. She is thrilled to be at All Souls Church and looks forward to meeting each of you!