Children and Youth Religious Education
Join us on a lifelong journey to deepen our connections to the sacred.
While our building is closed, our church is open! Our weekly newsletter, the RelEd Times, will continue to come out on Wednesdays, weekly lessons you can do at home will appear on this page, and we'll share videos of Children's Chapel and other activities. Check back regularly.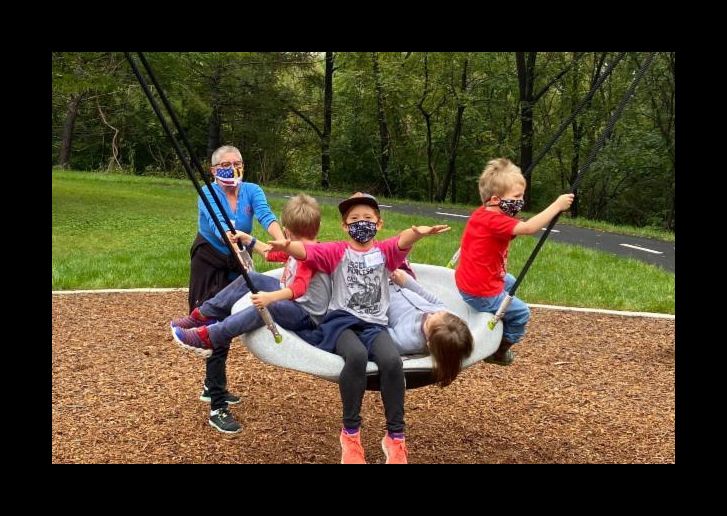 Schedule
Saturday, February 20, 11am – Hike for All Ages! We're back to Dewey Park in Montgomery County. RSVP to Dolores.
Saturday, February 20, 11am – Middle & High School Hike – We're back for another wintry hike in Rock Creek. Consult MSRE and Youth Group email lists for fuller details. RSVP to James.
Outdoor Gatherings Continue Into the Colder Months! We'll keep hiking into winter, with adjustments in the length of the activity for conditions. Cancellations or postponements are possible but generally, you can plan on Saturday mornings at 11am!
Sunday, February 21
9:30 am – RE for Preschool to 5th Grade:

Preschool – "I Love You, Stinky Face". We'll explore unconditional love with the book, "I Love You, Stinky Face". Bring paper and crayons/markers to draw your stinky face monster. Session will last ~30min. Click here.
K-5th – "The Legend of Rock, Paper, Scissors". We'll explore spiritual friendships through a story about this well-known game. Some spiritual friendships are formed by a common need, even if the friends are very different from one another. Where do we see this kind of spiritual friendship reflected in our Principles? We'll have "Rock, Paper, Scissors" contests. Bring your hands, paper, and something to draw with. Click here to join.
10:00 am – Middle School RE – Expanding Friendships – This week, we'll use a variety of activities to support expanding friendships both within the group and beyond. Come prepared to expand your horizons! Contact James for login information.

11:15 am – High School Youth Group – Deep Fun – The third of our four part series on Spiritual Friendship, we'll spend this Sunday playing games to connect further with fellow group members. Without our normal retreats and overnights, this month of spiritual friendship is one of our better opportunities this year. Check the Youth Group list for further details. Contact James for login information.

Upcoming REvents & OpportUUnities
Special Guest Frederick Douglass – Sunday, February 28th we will have a visit from Frederick Douglass, as reenacted by Michael Crutcher, from 9:30-10:30am.
Opportunity for Multiracial Families – Are you interested in meeting other multiracial/mixed race All Souls families? We'll provide a space to gather on Zoom at 1pm on Sunday, February 28th. RSVP to Dolores.
Can You Do A Flip? Seeking children or youth who can do flips (forward or backwards) for March's Story For all Ages. Contact Dolores.
Other Offerings
Weekly Mindfulness for Youth & Adolescents. Drop-in sessions led by James for weekly meditation, yoga, and breathing practices to ease anxiety in uncertain times. Middle & High School students meet together at 4:30 pm on Tuesday's. Contact James for login information.
Office Hours – James will also hold office hours at 4:00 pm Tuesday's. In a time of relative isolation, connecting with others can ease anxiety and lend perspective. Whether you have a specific concern you'd like to discuss, or just want to talk about good movies or favorite music, come check in during the 30 minutes preceding the mindfulness session. Contact James for login information.
Teachers, Advisors and Volunteers sought! Contact us if interested. Much support provided!
Stay tuned – We have more exciting programs in the pipeline and will announce details on a rolling basis. 
Religious Education Winter 2021
Choose from the chalice lighting texts below.
Preschool Chalice Lighting Words
We light this chalice to celebrate Unitarian Universalism.
This is the Church of the open minds.
This is the Church of the loving heart.
This is the Church of the helping hands.
Children's Chapel Chalice Lighting Words
Call: We light this chalice for our Unitarian Universalist spirit growing, justice seeking community.
Response: I am a living member of the great family of All Souls.
We Light This Chalice to Affirm, by Charles Howe
We light this chalice to affirm that new light is ever waiting to break through to enlighten our ways,
That new truth is ever waiting to break through to illume our minds,
And that new love is ever waiting to break through to warm our hearts,
May we be open to this light and to the rich possibilities that it brings.
For Every Time We Make a Mistake, by M. Maureen Killoran
Call: For every time we make a mistake and we decide to start again,
Response: We light this chalice.
Call: For every time we are lonely and we let someone be our friend,
Response: We light this chalice.
Call: For every time we are disappointed and we choose to hope,
Response: We light this, our chalice.
We Light This Chalice for the Light of Truth, by Mary Ann Moore
We light this chalice for the light of truth.
We light this chalice for the warmth of love.
We light this chalice for the energy of action.
This Flame Affirms the Light of Truth, by Elizabeth Selle Jones
This flame affirms the light of truth, the warmth of love, and the fire of commitment.
Extinguishing the chalice: We extinguished this flame but not the light of truth comma the warmth of love, or the fire of commitment which adhere symbolizes. These we carry in our hearts until we come together again.
At Times Our Own Light Goes Out, by Albert Schweitzer
At times our own light goes out and is rekindled by a spark from another person. Each of us has caused to think with deep gratitude of those who have lighted the flame within us.
I Praise the Blue Sky, by Anonymous
I praise the blue Sky.
I praise the sun that is in you.
I praise the bright moon.
I praised the shining stars in you.
The Only Prayer, by Johannes Eckhart
If the only prayer you ever say in your entire life is thank you, it will be enough.
The Earth So Big, by Janet Goode
The earth so big and I'm so small,
I wonder why I'm here at all,
until, at dark, I see the sky
and then I think I know just why.
I'm here to look and think and ask.
To wonder seems to be my task.
That suits me fine; there's much to see.
I sure am glad on earth to be.
Oh Great Spirit, by Unknown
Oh great spirit,
Earth, sun, sky and sea.
You are inside,
And all around me.
We Lift Our Hearts in Thanks, by Percival Chubb
We lift our hearts in thanks today
For all the gifts of life.
Earth, Who Gives Us This Food, Native American
Earth, who gives us this food,
Sun, who makes it ripe and good:
Dear Earth, dear Sun, by you we live;
To you our loving thanks we give.
God, We Thank You for This Food, by Unknown
God, we thank you for this food,
for rest and home and all things good,
for wind and rain and sun above,
for peace on earth and those we love.
Bedtime Prayer Thoughts, by Barbara Marshman
Think about the things you are thankful for today.
Think about something you feel sorry that you did or said today, and any way you can make it right.
Think about something you hope will happen, and any way you can help it to happen.
Think about being in a place of beauty or a favorite place where you feel safe and good.
Think about the people you love and their love for you. See each person's face in your mind. Give them a goodnight
Thank You, God, for All Life Brings, by Robert and Polly Cooper
Thank you, God, for all life brings,
for health and play an all good things,
and help me use my heart and mind
to make me strong and keep me kind.
Amen.
I Am Thankful for the Night, by Rebecca J. Weston
I am thankful for the night
and for the pleasant morning light,
for health and strength and loving care
and all that makes the world so fair.
Amen.
These Are the Days, by William R. Murray
These are the days that have been given to us; let us rejoice and be glad in them.
These are the days of our lives; let us live them well in love and service.
These are the days of mystery and wonder; let us cherish and celebrate them in gratitude together.
These are the days that have been given to us; let us make of them stories worth telling to those who come after us.
We Give Thanks for the Earth, by Gary Kowalski
We give thanks for the earth and its creatures and are grateful from A to Z:
For alligators, apricots, acorns, and apple trees,
For bumblebees, bananas, blueberries, and beagles,
Coconuts, crawdads, corn fields, and coffee,
Daisies, elephants, and flying fish,
For groundhogs, glaciers and grasslands,
Hippos and hazelnuts, icicles and iguanas,
For juniper, jackrabbits, and June bugs,
Kudzu and kangaroos, lightning bugs and licorice,
For mountains and milkweed and mistletoe,
Narwhals and nasturtiums, otters and ocelots,
For pennies and persimmons, and polar bears,
Quahogs and Queen Anne's Lace,
For raspberries and roses,
Salmon and sassafras, tornadoes and tulipwood,
Urchins and valleys and waterfalls,
For X (the unknown, the mystery of it all!)
In every yak and yam;
We are grateful, good Earth, not least of all,
For zinnias, zucchini, and zebras,
And for the alphabet of wonderful things
that are as simple as ABC.
Your Gifts, by Rebecca Parker
Your gifts–whatever you discover them to be–
     can be used to curse or bless the world.
The mind's power,
     the strength of the hands,
     the reaches of the heart,
the gift of speaking, listening, imagining, seeing,
waiting
any of these can serve to feed the hungry,
     bind up wounds,
     welcome the stranger,
     praise what is sacred,
     do the work of justice
          or offer love.
Any of these can draw down the prison door,
     hoard bread
     obscure what is holy,
     comply with injustice,
          or withhold love.
You must answer this question:
What will you do with your gifts?
Choose to bless the world.
The choice to bless the world
can take you into solitude
to search for the sources
of power and grace;
native wisdom, healing and liberation.
More, the choice will draw you into community,
     the endeavor shared,
     the heritage passed on,
          the companionship of struggle,
     the importance of keeping faith,
     the life of ritual and praise,
          the comfort of human friendship,
               the company of earth,
                    it's chorus of life
                         welcoming you.
None of us alone can save the world.
Together – that is another possibility,
     waiting.
Dolores shows us the ropes.
Welcome to the vibrant and enriching program that is religious education for children, youth, and families at All Souls! Our mission, in alignment with that of the church at large, is to build a diverse, spirit-growing, justice-seeking community. We do this through meaningful lesson themes, arts, hands-on and physical activities, and open conversations. In addition to classes, there are many family friendly events, as well as opportunities to enrich our connections with the family of All Souls Church. Welcome, one and all, to our Unitarian Universalist religious community.
Read on for an RE adventure, as well as helpful information.
~ Dolores Miller, Director of Children and Youth Religious Education
The purpose of the Religious Education Program is to:
encourage and support our children's spiritual and ethical growth;
provide an open, safe, and compassionate community;
offer young people a place to explore Unitarian Universalism and other faiths; and
support a natural development of religious faith based on direct experience.
The 2019-2020 registration form is available below. You must register your child(ren) for all classes, nursery through high school. You'll find descriptions of the classes below. Ours is a cooperative program, so all parents/guardians must volunteer in some way. There is no waiver on volunteering. 
Classes and Other Offerings
Religious Education Committee
The Religious Education Committee embodies congregational responsibility for the religious education for children and youth by articulating directions and supporting the professional and volunteer staff in realizing the goals of the program.
Meeting once a month with RE staff, committee members articulate the direction and design of the religious education program by listening to parents and congregants, planning and implementing religious education events, supporting training sessions, and working with other adults in the wider congregation to build a truly intergenerational religious community.
Danielle Henry, Committee Chair
Julie Vallelunga
Allison Denny
Kirk Freeman
Dana Martin
Merrie Dodson
Kevin Hilgers
Shelley Finlayson
All Souls Church (ASC) and its congregants want all people at the church to be safe. The Religious Education (RE) Safety Policy (Safety Policy) is about the reasonable boundaries, behaviors, and rules ASC and its congregants follow and respect to keep children and youth under the age of 18 safe. We ask that all adults in the church follow these rules with all children and youth in the church during church-related activities. We understand that individual adults may have grown up with different rules, or follow different rules within their own families. We, the Children and Youth Religious Education (CYRE) Committee, arrive at these rules and behavior expectations after research, consultation with child safety professionals, and prayerful consideration.
General: No adult should ever be alone with one child or youth, unless they are the parent or legal guardian of that child or youth. An adult mentor who is talking to a child or youth can find a place that provides some privacy, but may not be alone in a room with a child or youth. Examples of safe mentor conversation locations include a corner of Pierce Hall, a corner of the lobby, or in a room with the door open where the conversation can easily be seen by people walking by.
Background Checks: ASC RE staff will perform background checks on all individuals who regularly work with children or youth at church-related activities.
Registration: Parents/guardians must complete RE registration for each child or youth participating in RE. Registration may be done online or using forms available in each classroom.
Snacks: ASC will offer snacks at RE classes and events that are relatively healthy and unlikely to be allergens. Parents must notify the ASC RE Director of any special food allergies, so that ASC RE staff can make an effort to provide appropriate snacks.
Drop-Off: If a parent/guardian is the first to drop off a child or youth and there is only one teacher in the room, the parent/guardian will stay until another teacher or child or youth arrives.
During Service: During service, children or youth must either be in class or with their families in the service.
Outside of Service: In times outside of service and RE classes, children and youth may move through the church with age-appropriate independence. However, children and youth are expected only to enter spaces meant for people to occupy, e.g. children or youth cannot climb into closets, hide backstage, or go by themselves into the bell tower. Consider both the physical safety of the space and the likelihood that children or youth could get hurt out of view by objects or people. Parents/guardians are responsible for supervising children and youth.
Pick-Up: Parents/guardians must pick up children in 5th grade and younger promptly after class. Teachers may not dismiss a child in 5th grade or younger on their own, unless the parent/guardian has expressly permitted this in writing. Please be mindful of this when socializing after the service.
Off-Site Activities: Children and youth may not leave the church for RE activities without a signed permission form from a parent or guardian.
Emergency Plan: ASC will perform evacuation drills so that children, youth, and teachers are familiar with the routes. Parents/guardians will meet children and youth outside in the event of an evacuation.
First Aid: ASC provides limited first aid kits in every classroom. A more comprehensive kit is at the front desk. Teachers will promptly notify parents/guardians of any serious health issues.
Photographs: ASC will not publish pictures of children or youth in ASC publications or on social media without express parental/guardian permission, which may be provided at RE registration. Adults, children, and youth at ASC should not post pictures of or identify children or youth on social media without the permission of the child or youth and their parent/guardian.
Serious violations of the Safety Policy should be reported to the RE Director, Dolores Miller, at 202-517-1469.
Thank you for participating in the All Souls Church Religious Education Program.
Expectations for Behavior
In the RE Program, we seek to engage children and youth within an atmosphere of mutual respect and kindness. At the beginning of the church year, all classes create a "Class Covenant," stating how they will be in community with each other. In order to ensure a safe learning environment for all participants, we expect a method of interacting guided by our covenants. In the event that a child needs help meeting these expectations, the following steps may be taken: verbal correction or sign, removal from the group, conversation with the Religious Educator, consultation with parents, parents asked to take part in class.
In the spirit of community, we ask that our children and youth "be present" in class. This means they do not bring books and toys into the room with them unless it is meant to be used with the lesson. Ideally, all children will be present in mind and spirit, but if your child has a special need to bring a book or toy from home, please speak with Dolores.