Accessibility at All Souls
In 2022, the congregation of All Souls voted to approve new church goals, two of which are to act accountably to dismantle racism and other oppressions in ourselves and our institutions, and to connect with each other and our neighbors in new ways and in a well-maintained historic building. Part of our commitment to these goals is to ensure that we live up to our name, All Souls, and ensure that access to our building, grounds, programming, literature, and other areas are equitable and easily accessible. 
This page will outline several of the ways we strive to live into these goals, but we are always open to feedback from the congregation whose lives are impacted by our decisions. Please provide feedback, suggestions, and your needs!
We will meet you where you are, All Souls.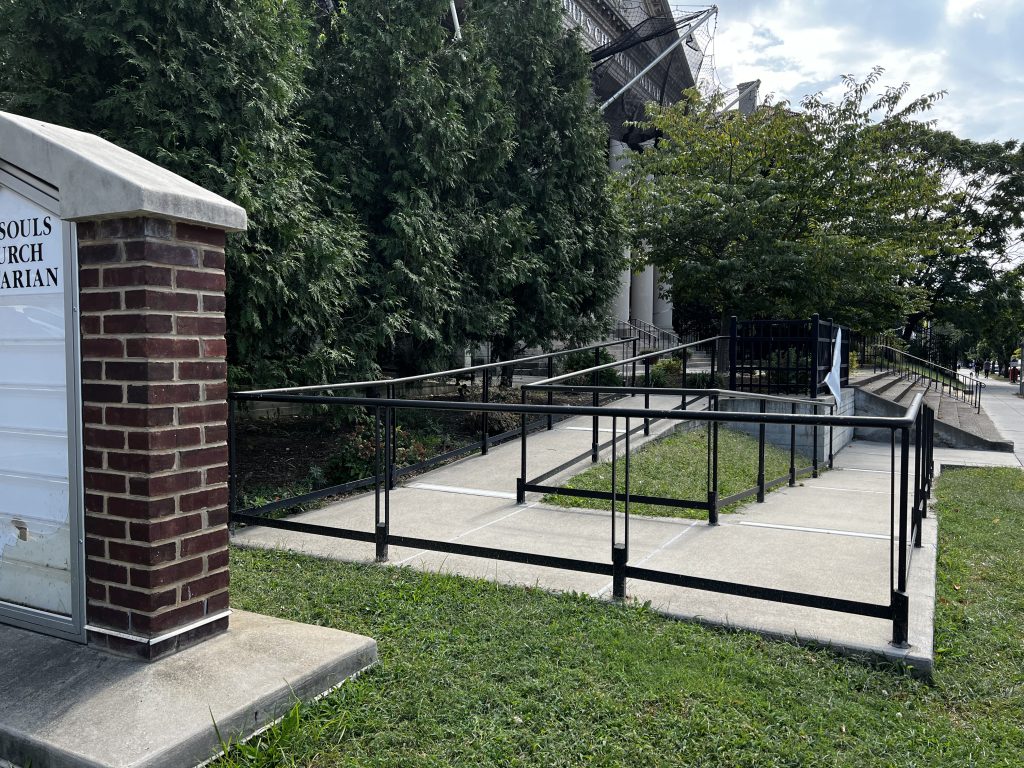 There is an Access Ramp at the corner of 16th and Harvard Streets NW which leads onto the All Souls Terrace. There is a door just inside the gate that leads to the Sanctuary (will need to be opened from the inside), and the oversized door on the opposite side of the Terrace leads into the lobby (unlocked during business hours).
The Elevator in the lobby provides access to all three floors of the building. There are ramps at various points in the building and grounds that create access to places with stairs, but no elevator or lift available. 
The All Gender Restroom on the lower level (next to the Dining Room) is wide enough for all wheelchairs and mobility devices, with support rails and a child changing area. All three restrooms (all gender beside Pierce Hall, men and women restrooms in the lobby) on the main level have accessibility stalls with changing areas but are standard width for access with handrails. The restroom on the upper level is for all genders, but is not necessarily accessible. 
There is a designated Accessibility Pew in the Sanctuary which is wider than the other pews. Please feel free to sit wherever you are most comfortable! Ask an Usher or Staff member if there is a location that might work better to meet your needs.
The All Souls Website has an accessibility app available that provides a wide variety of tools to meet the widest range of needs possible.
Closed Captioning is added to our newest videos, and our hope is to go through our older collection and add captioning as well. ASL interpretation is added to video content when possible for the widest reach.
Alternative Text on Images is added to all of our content on the website. If you find an image without it, please send an email to our Communications Manager.
Closed Captioning on Zoom is made available for all our live virtual content. If it is not started when you join the meeting, please request it through the Zoom app. 
Braille descriptions are part of all permanent signage in the building. However, it may not reflect the official name of the rooms. Please let us know if you find conflicting information, and any of our Ushers (on Sunday) or Staff will be happy to help you travel through the building.
Audio in Elevator will tell you what floor it is stopping on. If you do not hear this, please let us know, and any of our Staff will be happy to help you get to the correct floor.
Braille hymnals available at the front desk. We are currently only able to provide hymn lyrics in braille for songs or readings that are in the hymnal Singing the Living Tradition. If you plan to join us and would like printed literature, please contact our Communications Manager with at least one week's notice. We do not have the capability to print braille in house, but may be able to get items with notice.
Ushers and Staff are always available, please let us know what would be most helpful when you arrive!
Hearing Assistance devices for the Sanctuary are available at the front desk. Currently, these RF receivers are only available for the Sanctuary sound system. 
ASL is provided by a certified interpreter each Sunday for worship, and on request for other program areas. We ask for two weeks notice if you are requesting ASL for additional program areas.
Closed captioning is added to recorded video elements. We are working on updating our older videos to include captioning.
Closed Captioning on Zoom is made available for all our live virtual content. If it is not started when you join the meeting, please request it through the Zoom app. 
Your service animal is welcome to join you! We understand that your trusted animal companion is a key part of your life. Please let us know if there are ways we can make your visit more comfortable.
Quiet space can always be found if you or someone with you needs to step away and recenter, please ask a staff member where would be best, and if there's something specific that would be helpful. 
All Souls can sometimes be a sensory overload, between the people, the noise, and if it's a new space. Please reach out in advance if there are ways that we can provide a more sensory friendly experience. It may not always be perfect, but we would like to try.