We are a diverse, spirit-growing, justice-seeking community.
All Souls is a progressive religious community in the heart of DC, at the intersection of Mt. Pleasant, Adams Morgan, and Columbia Heights. We walk diverse paths to find meaning and purpose, but are united by our belief in the worth and dignity of all, and the obligation to express our faith through acts of justice and compassion. Join us as we create a diverse, spirit-growing, justice-seeking community that's true to our name, All Souls!
For Now
During the Covid-19 shutdown, our building is closed, but we hope you'll check out our services online. Join us on Sunday mornings (the service is posted on our homepage). You can check out previous services here.
When it is safe to gather again, we will let you know on this website.
In Normal Times
Join us for worship on Sunday mornings at 9:30 or 11:15 am. (During the summer, between Memorial and Labor Days, we have one service only at 10:15 am.) You'll find us at 1500 Harvard Street NW, Washington DC 20009 (@16th Street). You can contact us at 202.332.5266 or allsouls@allsouls.ws.
If you'd like to learn more about the church or Unitarian Universalism, we invite you to About All Souls, a casual, one-hour-long introduction to our community. These sessions happen on the first Sunday of every month, following each service. If you have questions in the meantime, reach out to Director of Member Services Gary Penn (gpenn@allsouls.ws; 202.517.1465).
All Souls Church, Unitarian, has, for two centuries, played a vital role in Washington, DC, and the nation as a whole. Located at the intersection of 16th and Harvard Streets, the congregation's third church straddles the Mount Pleasant, Columbia Heights, and Adams Morgan neighborhoods. The congregation was founded in 1821, as First Unitarian Church of Washington, by such American visionaries as William Ellery Channing (founder of American Unitarianism), President John Quincy Adams, Vice President John C. Calhoun, and Charles Bulfinch (architect of both the congregation's original church and the U.S. Capitol). Samuel Longfellow, brother of poet Henry Wadsworth Longfellow, was an All Souls minister and widely published composer of hymns. Founding members included slaves, free African Americans, immigrants, laborers, merchants and distinguished local and national leaders–each involved in key issues facing the country —abolition, education, poverty, civil rights, peace, and economic justice.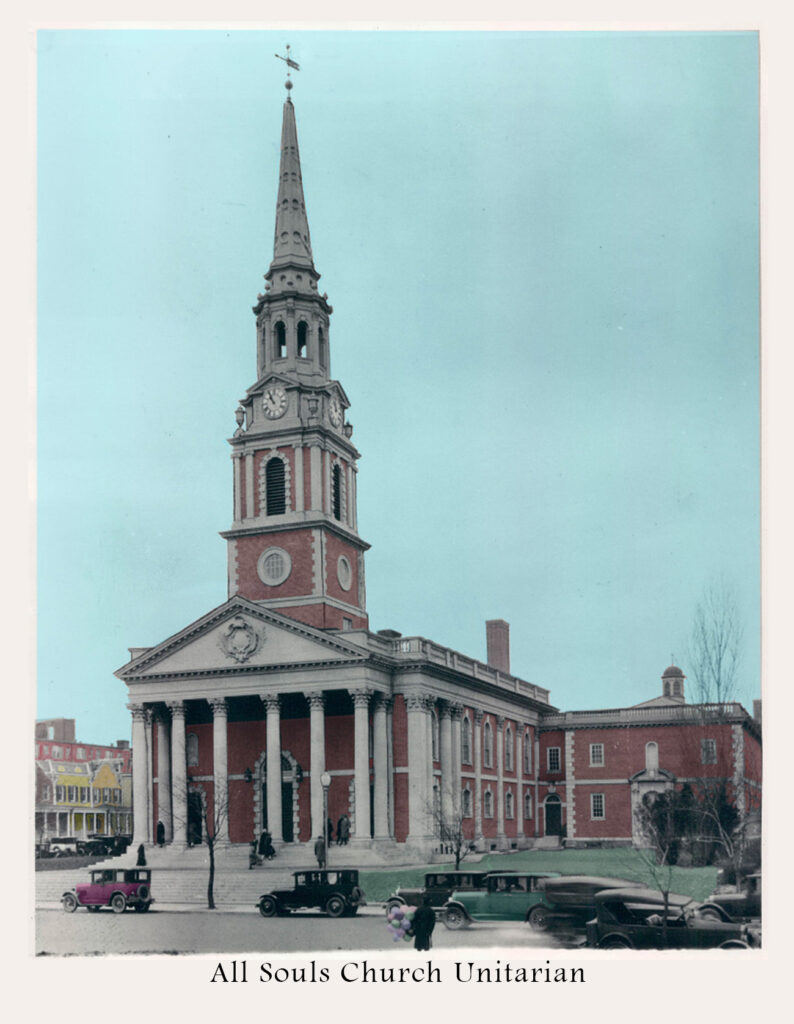 5th Principle: We, the members of All Souls Church Unitarian, covenant to affirm and promote the right of conscience and the use of the democratic process within our congregation and in society at large.
"Democracy means not 'I am as good as you are,' but 'You are as good as I am.'" – Theodore Parker
At All Souls Church Unitarian, the congregation governs the church through representatives elected as church officers and trustees. At the annual Congregational Meeting, members also vote on the church's budget, changes to our bylaws, and other matters of church governance.