Founded in 1821, All Souls is headed for our third century.
Acknowledging Those Who Came Before Us
All Souls recognizes that our city and our church was built on lands taken from Indigenous people. We lament this injustice.   
The closest village to our church site was Nacotchtank [Na-COTCH-tank], from which the name Anacostia is derived. The residents were part of the Piscataway [Pis-CAT-away] group of tribes still present in the DC and Maryland region today.  
For all of us who aren't native to this land or the land where you reside around the world, one way to practice our commitment to the Eighth Principle is to go beyond acknowledgement and find out what Native organizing is happening in your area and how you can support it.
For two centuries, All Souls Church, Unitarian, has played a vital role in Washington, DC, and the nation as a whole. Located at the intersection of 16th and Harvard Streets, the church straddles the Mt. Pleasant, Columbia Heights, and Adams Morgan neighborhoods. The building — All Souls' third location — was added to the National Register of Historic Places in 2020.
In the words of All Souls' former Senior Minister, Rev. Robert M. Hardies: "Our ancestors dreamed of a special kind of church of the free spirit, unfettered by dogma; a church of the free mind pursuing all truth, a church of the free person, resisting all bonds of oppression. For 200 years, since 1821, All Souls has served as a shelter of those dreams."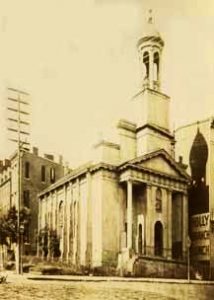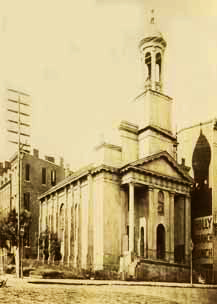 All Souls was founded in 1821 as First Unitarian Church by some of Washington's most prominent White men, including Secretary of State and future President John Quincy Adams; Secretary of War and future Vice President John C. Calhoun; Architect of the Capitol Charles Bulfinch; and newspaper publisher, city alderman, and future mayor Joseph Gales. Some of the founders were enslavers; others strongly opposed slavery.
Bulfinch designed the church's first building, at Sixth and D Streets NW, close to City Hall. President James Monroe donated $100 toward the bell, which was forged by Paul Revere's son, Joseph Revere, and served as a sort of town bell. During the Civil War, the church was used for a time as a hospital.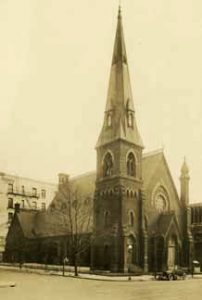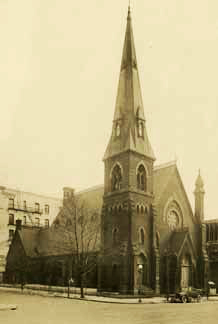 In 1878, the congregation moved to a new building at 14th and L Streets NW, and took on a new name: All Souls Unitarian. The church arrived at its current location in 1924, a building patterned after London's St. Martin-in-the Fields Church. Among the guests at the dedication services were President Calvin Coolidge and Chief Justice William Howard Taft and their wives.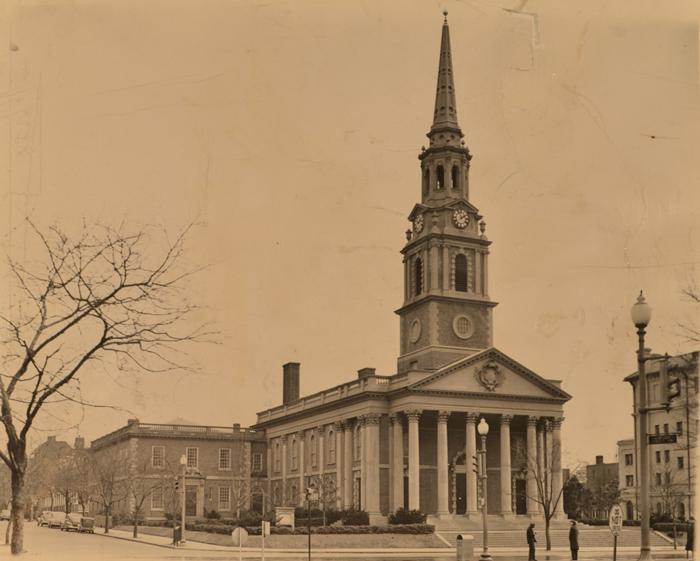 During the 1960s, All Souls worked with Planned Parenthood to set up a birth control clinic in the church; launched an anti-poverty effort called the Girard Street Project; and established a clothing center in cooperation with the DC Commissioners' Youth Council. The congregation supported the Poor People's March in 1968; set up a Center for Surplus Food Distribution; developed a breakfast program for needy neighbors (open until 1994); and in 1970, formed the All Souls Housing Corporation, which worked with Change Economic Development Corporation to build 406 units of affordable housing in Columbia Heights. All Souls has long been a welcoming place for the LGBTQ community, including housing out-of-towners in Washington for Gay Rights marches.
Today, All Souls Unitarian Church remains a progressive, social justice-seeking leader in the community. After 9/11, Rev. Rob Hardies, then the brand-new senior minister, consoled Americans both in the pulpit and on radio, and challenged the U.S. invasion in Iraq with a bell-ringing program that called attention to the moral cost of the war. He led continued support for affordable housing and funding for the Columbia Heights neighborhood and, as one of the earliest gay ministers in the area, spearheaded efforts for marriage equality and LGBTQ rights alongside a multi-racial council of some 100 members of the clergy. In 2009, Mayor Adrian Fenty signed DC's Marriage Equality Act into law in All Souls' sanctuary. All Souls members are just as active and engaged as the ministers and staff. For example, hundreds of volunteers helped rebuild New Orleans after Katrina; supported Florida's Parkland School students in their gun control efforts; and are organizing support for immigrants and refugees.
The rich history of the church is constantly being catalogued and updated to reflect our living history. Please click on the icons below to learn more about various historical aspects of All Souls!
Watch a discussion of the new edition of "Washington Unitarianism."
"Church Archives Have Stories to Tell":
Archivists from four DC churches
tell why their collections are valuable
and explore how to save them.
Washington Unitarianism:
A Bicentennial History
of All Souls Church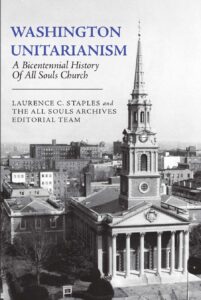 More than 50 years have passed since longtime All Souls Executive Director Laurence C. Staples wrote his history of our church. In this revised version of the book, Washington Unitarianism: A Bicentennial History of All Souls Church, we've added three brand-new chapters covering those 50 years, with lots of new photographs.
To pick up your book(s), you have some options:
You can pay for your book(s) here. Please download your receipt, then email one of the Archives Team members below to arrange a pickup time (put "All Souls book" in the subject line). Bring your receipt to the pickup location or attach it to the email.
Bring $20 cash (exact amount only) or a $20 check, made out to All Souls Unitarian Church, to one of the pickup sites, after emailing to schedule a time (put "All Souls book" in the subject line).
Order the book at Politics and Prose. 
Books are available at the church on Sundays after service at the front desk in the Reeb Lobby (Harvard St side of the building).
On behalf of All Souls Church, and our Archives team, thank you for taking the time to visit our site today! If you appreciate what you've seen and learned, and feel moved to do so, please use the button below to make a contribution to the church so that we can continue to offer an indepth look at our history!