Norma Boyd (j. 10/1953; d. 1985) was an educator, champion for children's rights, and important voice for women's empowerment and racial equality. She was also one of the original 16 co-founders and incorporators of Alpha Kappa Alpha Sorority, the first Black Greek-letter sorority established by African American college women, and director of its Non-Partisan Council on Public Affairs, the country's first full-time minority lobby. She was active in a wide variety of organizations, including many with an international focus, and earned the distinction of being named an accredited observer for the United Nations. Boyd was admitted to Howard in 1906, where she majored in math, at a time when only one-third of 1% of African Americans and 5% of whites of eligible age attended college.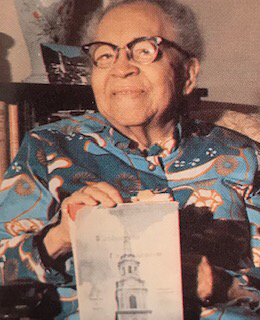 She started coming to All Souls at the invitation of women she met who were active in the Women's Alliance. She was attracted to UU, fell in love with the church, and decided this was the place she wanted to be. Boyd died at age 97 and was Alpha Kappa Alpha's last living founder.
Boyd's memory of joining All Souls is documented in an oral interview conducted as part of The Black Women Oral History Project in November 1976, in which she explains her religious evolution and recounts why and how All Souls was very important to her. (Click the link, select the third of the six tapes, and then push the play button.) Source: Women Oral History Project. Interviews, 1976-1981. Norma E. Boyd. OH-31. Schlesinger Library, Radcliffe Institute, Harvard University, Cambridge, Mass.