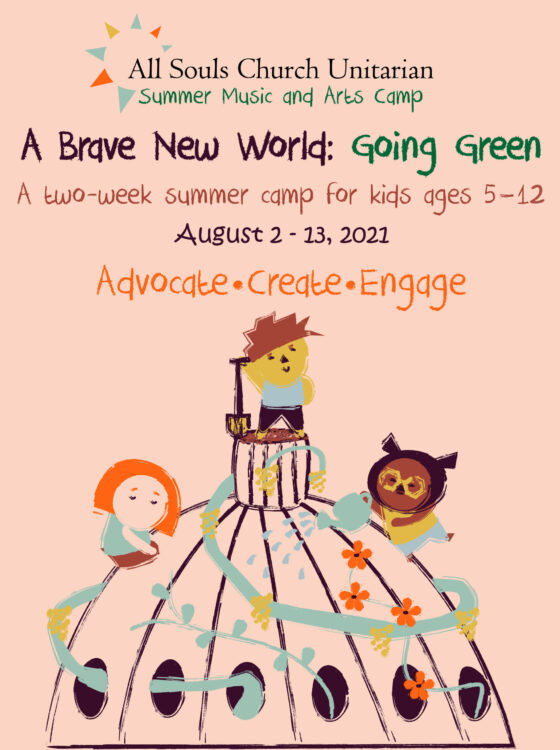 We are proud to announce our first ever music and arts summer camp at All Souls Church!
Our campers will experience a fun and exciting experience, themed "A Brave New World: Going Green."
August 2 – 13
9 am – 4 pm (after care: 4 – 5 pm)
60 camper slots
$900 per child ($1000 with after care)
Campers will learn how to engage their communities through the arts to make a cleaner, greener Washington DC!
The camp experience will include, but is not limited to, arts and crafts, musical theater, outdoor play, vocal performance, and instrument workshops.
We will culminate with a concert on August 12 featuring our campers and our amazing staff!
Interested in being a camp counselor?
Ages 14-20. Paid positions (above fair compensation) for 25 hours/week from August 2 through 13. Counselors will cover either mornings (8 am – 1 pm) or afternoons (12 noon – 5 pm). They will support our teaching artists with sessions based in performing and visual arts, participate as chaperones for field trips to our community partners, and participate in our closing ceremony on August 12. Experience in the arts encouraged, but not required.
Frequently Asked Questions
Q: Can I pay in installments?
A: We ask that you make your payment in full at the time of registration. However, we understand the need for special circumstances, so please email Jen Hayman (jhayman@allsouls.ws) to discuss.
Q: Can I enroll my child for just one week of the camp?
A: The program has been tailored to cover two weeks. Therefore, we are unable to offer one-week registration.
Q: I'm not sure yet if I'll need after care. Can I decide later?
A: Yes, you can add after care at a later date, up to July 1.
Q: Do you offer a discount for families with multiple children?
A: Yes. Use the discount code SIBLINGS when you register and pay to get $50 off for each sibling.
Q: Are scholarships available?
A: Yes, limited scholarships are available for those with challenging financial circumstances. Please email Jen Hayman (jhayman@allsouls.ws) to see if you qualify.
Q: How can I help provide scholarship funds for campers?
A: Thank you for your generosity! If you'd like to discuss your donation with us first, please email Jen Hayman (jhayman@allsouls.ws). You can make any donation amount. All contributions are tax deductible.
Q: What precautions are you taking to ensure the health and safety of our children?
A: We are fortunate to be working with members of our congregation and other individuals who are involved in COVID policy at the national level. They are consulting with us (and will continue to do so through the weeks of the camp) to make sure that we prioritize our children's health and safety.
Please note: This is our inaugural season of presenting this camp (delayed from last year), and we are aware that there will be a learning curve. Your feedback and support are very appreciated. Please know that safety, quality instruction, and fun are our top priorities for your children!