Imagining Our Future: Fall 2021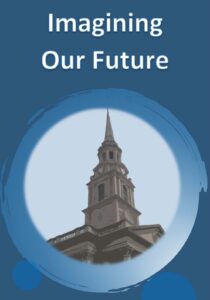 When we get real about who we are and who we've been…what future will we create together?
There are no more workshops scheduled.
An Invitation
This fall, the All Souls Board of Trustees asks you to guide the direction of our church by helping to set new Church Goals as part of the Imagining Our Future church-wide project.
Since we're a congregationalist church, it's up to the congregation to decide how All Souls will transform lives in the future. The last time we came together to make these decisions about our Goals was over a decade ago, and we won't do so again for at least another five years.
As Interim Senior Minister Kathleen Rolenz said recently at a Sunday service, "The future is indeed in your hands," and it's up to you—the people who make up the congregation of All Souls—to decide what our future will be. The Board asks all of you to take part in Imagining Our Future this October and help make that decision.
What's a Goal?
The end result of Imagining Our Future will be a set of new Church Goals. These Goals are written statements that define our destination for the next five or so years. Goals center our covenantal community by describing the shared dreams that we, as a community of communities, strive to realize. And Goals provide direction to our staff. By setting Goals, we tell the staff of the church what we want them to work on during the next few years, and they then find the classes, music, services, and programs to help us reach those Goals.
Do we currently have Church Goals?
Yes, we have four Church Goals, which were set in 2010. The typical lifespan of a Church Goal is about five years, and so ours are overdue for an update. If you would like to read about our current Church Goals, please read the Board's June 2021 Annual Report.
How do I help set new Church Goals?
The Board recruited dozens of congregants to lead small-group workshops that form the core of Imagining Our Future. All you need to do is attend one of these workshops.
What happens at a workshop?
Congregants will participate in a guided discussion using an "Appreciative Inquiry" model. During this discussion, you will connect with each other, share your experiences of transcendence and wonder (the first source of Unitarian Universalism), and dream big about the future of All Souls. Board members attend every workshop, listen to you, take notes, and draft new Church Goals based on what you imagine for the future of All Souls.
Who should attend a workshop?
You.
If you're part of this congregation, then the work of setting the direction of this church is in your hands. There won't be another chance like this for at least five years.
When can I attend a workshop?
Workshops will take place every week in October and the first week of November. They will be offered on Saturdays at 10 am in the church's dining room, and most Tuesdays and Thursdays at 6:45 pm on Zoom. Each workshop lasts about 2.5 hours.
We ask each congregant to attend one workshop. You can attend the Saturday, Tuesday, or Thursday workshops as an individual or as a community (e.g., if your covenant group wants to all attend the same workshop).
You may also be able to schedule a workshop specifically for your community, if you have ~12 people who will attend. Please email Neil Manzullo (nmanzullo@allsouls.ws) or Cathy Tortorici (ctortorici@allsouls.ws) if you're interested in dicussing a community-specific workshop.
How do I attend a workshop?
Sign up for a workshop by clicking here. Saturday workshops are held at 10 am in the dining room, and Tuesday/Thursday workshops are held at 6:45 pm at this Zoom link: https://us02web.zoom.us/j/85753095471?pwd=T1N2endWYkpDakF4SkRrSHdrNDdOZz09
Pre-registration is preferred, since we may need to modify the schedule and combine or move workshops.
If you need to change or cancel your attendance, please email Neil Manzullo at nmanzullo@allsouls.ws. 
Why should I participate in Imagining Our Future?
We need your voice. Our power as a church to transform ourselves and the world is at its peak when we know our destination. We need you to help set the Goals that define our destination, and you won't have another chance to do so for at least another five years.
How does Imagining Our Future relate to the ministerial search?
This fall, through this next step in our search process, we will set new Church Goals. Then, in the winter and spring, we will turn to the following steps in the search—discussing what kind of settled ministry will allow us to pursue those Church Goals, and electing a search committee to find that ministry.
These Goals will also form an important part of the "Congregational Record" that our search committee will send to interested ministerial applicants, since the Goals will describe to interested applicants what we would like them to work on while they're at All Souls.
How does Imagining Our Future relate to our Vision Statement?
In 2009, the Congregation participated in a church-wide project to adopt a Vision Statement for the church. Hundreds of congregants participated in this process, and it resulted in the church adopting the following Vision Statement:
To build the Beloved Community, All Souls Church cultivates and celebrates…
Spiritual growth and transformation as we question, learn from others, and seek lives of meaning and reverence.
A welcoming, diverse, and vibrant community where we love, respect, and care for one another.
Service and prophetic action to move the world toward justice, healing, and sustainability.
Vision statements reflect the enduring purpose of this church. It's important for Church Goals—which are narrower, and more time-bound than the Vision Statement—to fit within that larger vision. Since 2009, All Souls has experienced many changes, including theological changes through the adoption of the 8th Principle. As the Board listens to you discuss your dreams for the future of All Souls, the Board will consider how well the 2009 Vision Statement reflects the All Souls of 2021. If necessary, the Board may ask the Congregation to consider some updates to that statement.
I'm very excited about Imagining Our Future! What should I tell my friends at All Souls about this project?
Tell them to attend a workshop! You can also point them to this website, or print off a copy of this flyer to give to them.
How do I find more information?
If this page doesn't answer your questions, or if you just want to talk further about Imagining Our Future, you can email Board President Neil Manzullo (nmanzullo@allsouls.ws) or Board Vice President Cathy Tortorici (ctortorici@allsouls.ws), or talk to one of the other Board members: Libbie Buchele, Cait Clarke, MJ Crom, Joe Feuer, Erika Landberg, Bernard Mustafa, or Justis Tuia.