Associate Director of Music and Arts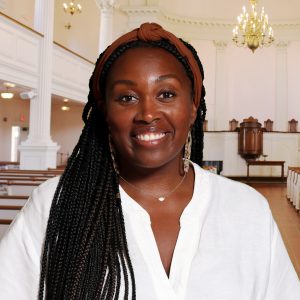 Rochelle general supports the music and arts program, leads and organizes BAM worship services, and co-leads the Children's and Junior Choirs.
Award-winning vocalist, composer, and clinician, Rochelle Rice combines the best of past and present American music. Her profound and flawless sound is a woven tapestry of jazz-centric contemporary pop and soul, while her undeniable stage presence and boldness marks her territory as an artist to follow on the new music scene. Rochelle has performed at top venues including The Kennedy Center, Walt Disney Concert Hall, Blues Alley, Strathmore Mansion, and Dimitriou's Jazz Alley. Increasingly in demand, Rochelle's versatility and unique skills as a singer, composer, and clinician have allowed her the opportunity to work with some of the industry's most acclaimed musicians, including touring with the internationally renowned a cappella ensemble, Sweet Honey In The Rock®, and performing with Grammy-award-winning rock music icon, Melissa Etheridge. Dedicated to social justice and presenting music that transforms and heals, Rochelle has performed at protests, social justice rallies, and recently sang in honor of the work of Congressman John Lewis and for the Grand Opening and First Anniversary Celebration of the National Museum of African American History and Culture. Through her work as a Music Education and Social Justice Advocate, she has been invited to present her interactive and intergenerational programming both nationally and internationally as a guest teaching artist in residence.