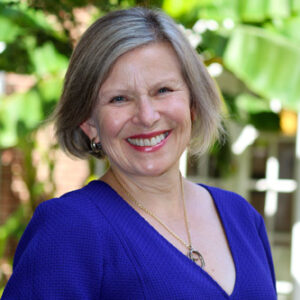 Rev. Rolenz is the interim senior minister at All Souls. She is responsible for the "program" side of running the church, which includes worship and the ministries of music, religious education, and social justice.
The Reverend Kathleen Rolenz is a native of Akron, OH. She graduated from Kent State University in 1983, discovering Unitarian Universalism at the UU Church in Kent, Ohio. She is a 1994 graduate of Iliff School of Theology in Denver, CO. In 2015, Iliff awarded her the Outstanding Contribution to Parish Ministry Award. She was ordained on October 3, 1998, by the First Unitarian Society of Denver in Denver. In 1994, she received her first call to ministry to the Westside Unitarian Universalist Church in Knoxville, TN (1994-1998); served as chaplain resident at the University of Virginal Medical Center (1998-1999); interim minister at the Unitarian Universalist Church of Glen Allen, VA (1999-2000); and was called to serve as the co-minister of the West Shore Unitarian Universalist Church in Cleveland, OH (2000-2016). She is now an accredited interim minister, after having served the interim senior minister of the Fox Valley Unitarian Universalist Fellowship (2015-2017) and the interim senior minister at the Unitarian Universalist Church of Annapolis, MD (January 2018 – June 2020. )
During her ministry in Cleveland, OH, Rev. Rolenz focused on preaching and the liturgical arts. With her husband, the Rev. Dr. Wayne Arnason, she co-authored Worship that Works (Skinner House), now in its 2nd edition. In 2003 she was the recipient of the Richard C. Borden Award for Excellence in Preaching; as well as receiving awards from the Men's Network and Beacon Press Sermon Awards. One of Kathleen's sermons caught the attention of director Alex Gibney of ESPN's Thirty for Thirty Series, who was doing a documentary on the curse of the Chicago Cubs. The 2011 film "Catching Hell" features a brief interview with Rev. Rolenz. In 2012, Rev. Rolenz was selected as one of the three deans of the UUMA program Beyond the Call: Excellence in Preaching and Worship Arts. She edited the book Sources of Our Faith (Skinner House) a collection of readings inspired by Unitarian Universalism's six sources. She co-authored & edited Twelve Step Unitarian Unviersalists (Skinner House) and Christian Voices in Unitarian Universalism (Skinner House.) She currently has another book in production with Skinner House: Dialogues with the Bible – 365 Days of Comfort, Conflict and Prayer. Rev. Rolenz is an accredited spiritual director; a member of Spiritual Directors International, in practice for spiritual direction for over 13 years.
When not working in Washington, DC, she lives with her husband in Charlottesville, VA, and is the proud "amma" (Icelandic for grandmother) to two twin girls, Ellis and Runa Moulard.