Director of Music and Arts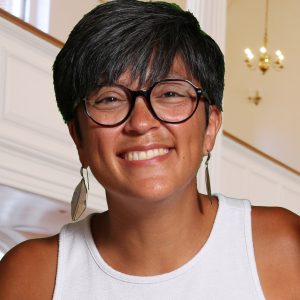 Jen runs the music and arts ministries and directs the All Souls Choir.
Jennifer Hayman, the director of music and arts at All Souls Church Unitarian, is an accomplished choral conductor, singer, and pianist. In her tenure at All Souls, Jen has grown the music program to include more than 200 participants, ages 5-80, in eight diverse performing ensembles. Jen led a successful flash mob for voting rights on the steps of the Supreme Court, resulting in a viral video that was featured on the Huffington Post, Upworthy.com, and the Rachel Maddow Show (2013). On the eve of the 2017 Women's March in DC, Jen directed a 700-voice Solidarity Sing in conjunction with All Souls' ongoing work as a sanctuary congregation. Recent achievements include Hiroshima: An Introspective, a multi-disciplinary event honoring perspectives on the Hiroshima bombings and featuring Jacob Lawrence's iconic Hiroshima series (2017), an evening of music and meditation featuring Rachmaninoff's "All Night Vigil" (2018), serving as a soloist for Darrell Grant's "Step by Step: The Ruby Bridges Suite" at the National Museum of African American History and Culture, and leading the All Souls Choir in performances at the Kennedy Center and for National Public Radio (2019). Prior to her work in DC, Jen was the production coordinator for Philadelphia baroque orchestra Tempesta di Mare and the director of music at the First Unitarian Church of Philadelphia from 2008-2013. She has studied with conducting greats Weston Noble, James Jordan, Alan Harler, Charles Bruffy, and Gisele Wyers. Equally passionate about both classical and popular music, Jen has collaborated with various rock and pop musicians and has been featured on numerous recordings as a pianist and vocalist. In her spare time, Jen can be found thrift shopping for retro home goods, trying to coordinate red, orange, and turquoise in the same outfit, and having dance parties with her husband, Rob, and young son, Simon.