What are my goals for the Interim Time?
As members and friends of All Souls, you have a right to know what your interim minister is doing! This fall, I've been working with the Board to develop a series of goals, based on the goals (also known as Ends Statements) that were created in 2009. In some ways, this is a work in process, but this document serves as my "marching orders" for the year ahead. I hope you enjoy reading this
Goals and Interpretations Report
and will look forward to receiving any ideas and suggestions you may have!
Tasks of Interim Ministry
The interim time is a unique opportunity for the church to look at its entire system through the lens of the five developmental/ transitional tasks, which are:
History – Reviewing how the Congregation has been shaped and formed; encouraging and hearing all of the stories about the Congregation's past, as the foundation upon with the present rests; and embracing the rich variety that makes up the Congregation.


Mission & Identity – recognizing its unique identity and its strengths, needs, and challenges; Defining and redefining sense of purpose and direction; clarifying the faith community's identity and core values; working to develop, update, and revitalize mission and vision statements; and reviewing strategic and tactical plans including stewardship and the financial health of the congregation


Leadership – clarifying the appropriate leadership roles of minister(s), church staff, and lay leaders and navigating the shifts in leadership that may accompany times of transition; Reviewing the membership needs and its ways of organizing and developing new and effective leadership; providing opportunity for individuals and the Congregational organization to examine the types of leadership needed for new leaders to emerge, and for seasoned leaders to recommit or to refocus their gifts.


Connections – making appropriate use of District, UUA, and other outside resources; Discovering and revitalizing all the association, interfaith, and community relationships a congregation builds outside of itself; and re-assessing old links and considering new ones.


Future – Developing congregational and pastoral profiles that position the congregation for its next ministry, including a healthy and honest assessment of the other focus points so that the congregation can turn its energy toward proactive decision-making for the future.



The interim will regularly review and report on her observations of these five areas of the church's life to the Board and will also form the basis for conversations with the Transitions Team.  Members of the Transitions Team should be able to discuss both the success and challenges of the congregation in a spirit of openness, curiosity, and inquiry.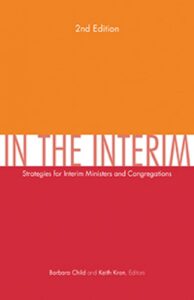 There are a lot of great resources available about Interim Ministry.  Check out some of these links:
The UUA's Interim Ministry website is an overview of interim ministry.
The Transitional Ministry Handbook provides a detailed overview of what congregations can expect during the Interim Time.
The Interim Minister will be evaluated in May 2021.  This form outlines the evaluation process.